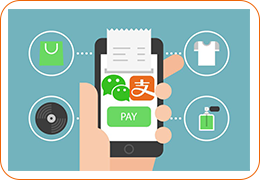 YEE Marketing is a multi-faceted digital media agency offering an array of services ranging from management of WeChat social media platform, digital health to event/campaign planning and video content marketing.
As a result of extensive research while working with our variety of clients, we have in-depth knowledge and insight into providing the best client-user experience.
Social Media: WeChat / Little Red Book
YEE Marketing specializes in connecting our clients to prospective Chinese customers. Our experienced team specializes in WeChat official account and Little Red Book management, providing your company instant exposure to a targeted market at a fraction of the cost.
Personal Digital Services: YEE Cards
YEE CARD offers a unique QR Code which can be displayed at your business, attached to your advertisements or emailed/texted/WhatsApp to your clients where they can instantly read details about you, your company and your products with a simple scan.
Digital Health: E-Wellness ID
Whenever your health condition, language or location is an issue, E-Wellness ID, your personal digital health record, offers you and others instant access to crucial information.
Digital Payment: WeChat Pay, Alipay, UnionPay QR Code
Payment made simple with low transaction rates.
Event and Campaign planning
We help our clients design and implement customized online and offline campaigns to fit their marketing needs.
KOL Management
Influencers are an integral part of digital marketing. YEE Marketing can identify the specific KOL that matches your branding and promotional themes.
Video Content Marketing
Video content is all set to solidify its position as a dominant form of content marketing. YEE Marketing provides an opportunity on the reality show, 温村生活Dayinvan, where businesses will gain exposure on a wide range of social media platforms for a fraction of the cost, targeting a global audience.
We pride ourselves in providing the best personalized service for your needs. Each client has a dedicated account manager that provides full assistance from the moment you join YEE Marketing as our client.
Whether you would like to set up a WeChat official account, require a completely customized marketing platform with monthly account management or design a dynamic digital menu for your restaurant, our expert team will look after every detail for you.
YEE Marketing currently works with companies in Canada and the US spanning over 24 industries. We specialize in WeChat and have team members in China and North America to work with all your needs.
By working with YEE Marketing, your company is instantly exposed to the vast online digital media platform at a fraction of the cost of traditional advertising avenues.